Massage Therapy Services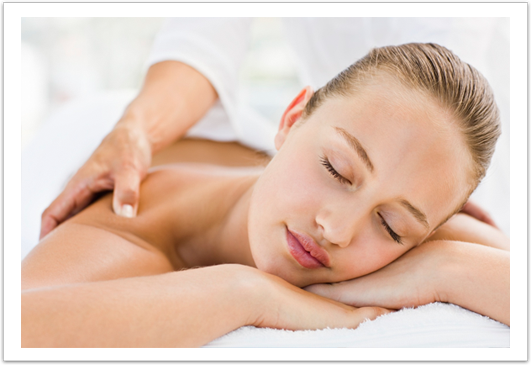 Jill Hagan, Meredith Groves & Ana Ranarace L.M.T. (Licensed Massage Therapists)
Soft tissue injury responds very well to massage therapy. It brings oxygenated blood to the injury site which helps to speed up healing. I also employ neuro-muscular therapy to help prevent future muscle spasms. This is fulfillment when a patient comes back to me feeling improvement, sometimes after the very first treatment.
Menu of Massage Services

30 min. Therapeutic Massage - This is a targeted massage to treat the areas of the body that is needing treatment and relief.

$35

60 min. Therapeutic Massage - This is a targeted massage to treat the areas of the body that is needing treatment and relief.

$65

Anti-Aging Massage - Its a combination of deep tissue, Swedish and lymphatic massage techniques with a series of advanced anti-aging products from Cellular Laboratories De-Aging Line.  Take care of your skin with this anti-aging formula. Over time, mature skin loses its ability to retain moisture and needs to be supplemented. De-Aging body balm provides cutting edge ingredients, Human Oligopeptide-9 and Renovage (Geranylgeranone), all which help lock moisture into the skin.

$95

Hot Stone Massage -  The heat warms and relaxes the muscles, which allows the therapist to apply deeper pressure, if desired.  The warmth of the hot stones improves circulation and calms the nervous system.  The stones are placed on points that are energy centers of the body to re-balance the body and mind.

$85

Massage Cupping- Uses glass cups applied to the skin to help relieve pain, flush out toxins and restore healthy blood flow to the body utilizing a suction pump, which creates a vacuum. It gives you the benefit of a deep tissue massage. The suction cup rapidly facilitates rigid soft tissue release by pulling it up and away from underlying structures, thus loosening areas of adhesion/restriction.

Hawaiian Lomi Lomi- Healing, detoxifying and energizing, Lomi Lomi is a form of massage passed down to therapists from Hawaiian elders (kahunas) and practiced throughout the Pacific for thousands of years. Lomi Lomi means to touch with loving hands. Therapists often use their hands and elbows in what can range from a gentle massage to a vigorous workout. A Lomi Lomi massage helps connect all areas of the body to work as one and offer a way for your body to communicate with you by reigniting the life force. Physically, it eases muscle pain, increases circulation, helps to draw out toxins and promotes relaxation and well-being.

 

 

 

Cancellation Policy-If you do not call to cancel at least 24 hours before  your scheduled massage appointment  or you are a no-show you will be charged a $25 cancellation fee. We will not allow you to schedule another massage until that fee is paid in full.